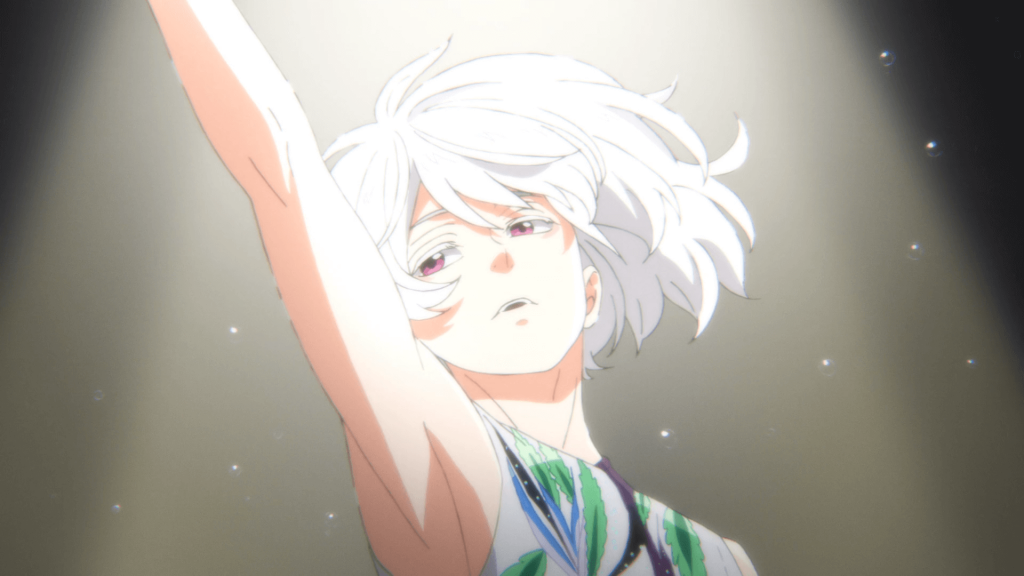 Storyboard/Episode Director
Yoshiyuki Fujiwara
Chief Animation Director
Yuka Shibata
Animation Director
Miki Muto, Naho Kozono
Action Supervision
Fumiaki Kouta
Key Animation
Shino Kuzuhara, Miki Muto, Susumu Matsunaga, Yoshiyuki Fujiwara, Miyako Yatsu, Naho Kozono
Keiichi Ishikura, Nana Fujiki, Yasuo Okawara, Natsue Chibayama, Yuki Chika, Kikuko Sadakata, Yuki Shimatani, Kasumi Kamada, Tomoko Sugimoto, Tomoko Hamanaka
At the sight of Doga Kobo's Yoshiyuki Fujiwara making a guest appearance, my mind naturally wandered to the roster of character animation aces he formerly presided over at the studio. Through directing series like GJ Club, Plastic Memories, New Game! and more, it's no exaggeration to say Fujiwara was a major part of the studio's widely recognized golden-age.
With that said, it would not be unreasonable to wonder if some of those former connections might join him here on Bakuten!!. This line of thinking, however, neglects the largest and most important factor in Doga Kobo's entire history: Shota Umehara (You can read more about his career here!). Who at this time had the entire aforementioned crew to himself (save for a few that are still running away from him), as they waged war against opposing forces native to TV anime, to create the ambitious animation spectacle that is Wonder Egg Priority.
Ultimately, as I alluded to, Bakuten!! #03 is without those stars… BUT they clearly demonstrated that they didn't need them to put on a show anyways- and that's all the more impressive! Though that's also not to say these were completely foreign waters either. Both animation director's have worked under Fujiwara before, with Miki Muto being a Doga Kobo mainstay since the start of their career, while Naho Kozono, despite freelancer tendencies, could be recently found on Fujiwara's Yesterday wo Utatte. I would imagine much like last week, the supervision duties were split between the first and second half respectively, both of which feature their fair share of quality animation. The attention to volume from a tricky perspective caught my eye in this cut specifically.
While the focus last week was mainly on backflips, this time around we have the handstand; and in a similar fashion, the characteristics of the technique itself find their way into the heart of Fujiwara's direction. Accomplished though vertically flipped and smartly framed first-person perspectives, we are intimately brought into this entirely too disorienting world of gymnastics.
This also doubles as a great time to introduce a character whose chaotic energy rivals the anxious nature of the handstand. Joined by a flock of kids no less, Mashiro's introduction is spectacularly animated. The last cut of the sequence stands out the most with the way the animator leverages a slight blur effect on Mashiro only– feigning depth between those closer to the camera and those further back, despite there not being all that much depth in the drawings themselves!
Having mentioned Mashiro twice now, it's impossible to ignore how much of his name-sake also found its way into the episodes' direction. The color white represents all sorts of different ideas so its interpretation here is forgiving, but given the context I would say it's neatly used to express some state of Zen, which ultimately serves to make Shotaro's eventual development feel all the more earned (and stylish!).
Extending that idea further to the rival school's routine at the end of the episode simply ties the knot on the entire thread. One which was graced again by Shingo Yamashita's camera work, as well as the intimate action supervision of Fumiaki Kouta and Shogo Matsumoto– the final result is a seriously clean performance- even beyond the bleached walls.